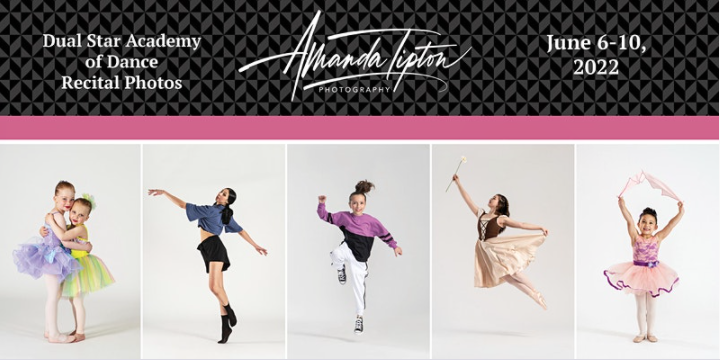 RECITAL PHOTOS! ***PRE-ORDER ONLY – ORDER BY 06/05
(PLEASE NOTE THESE ARE NOT RECITAL TICKETS, THESE ARE STRICTLY FOR PURCHASING RECITAL PHOTOS)!!!

We are excited to have Amanda Tipton Photography to the studio this year for recital photos! Amanda will be at Dual Star on June 6th-10th during your dancers' class times to take recital pictures (Saturday Class photos will be on held on Friday morning 6/10 and we will send you specific times as we get closer)!
Each ticket purchase provides your student with one (1) digital photo pass good for one class picture, individual or buddy picture. If your dancer performs in multiple classes or you'd like different poses in different costumes, then you will need to purchase multiple tickets.
Images will be in an online gallery for downloading and ordering prints as well.
Dancers should come fully dressed in their costumes with hair and makeup done. Have them wear any accessories that come with the costume. Attire, shoes and tights should be clean, delinted, and free from holes. Refer to the costume spreadsheet (which will be sent out closer to the recital, for costume details)!
YOU MUST PRE-ORDER YOUR TICKETS. There will be NO day-of ticket sales. The ticketing deadline is 06/05 at 11:30pm.
Your images will be in an online gallery for downloading and ordering prints. MAKE SURE YOUR EMAIL IS CORRECT WHEN PURCHASING YOUR TICKETS- your confirmation and your photos will arrive at this email address! 

If you have any additional questions please email Amanda directly: Amanda.R.Tipton@gmail.com