The recital is our year-end performance where our dancers get to perform choreographed dance routines for friends and family. The recital is not mandatory but most of our dancers do participate! The recital is held at the end of our season in June.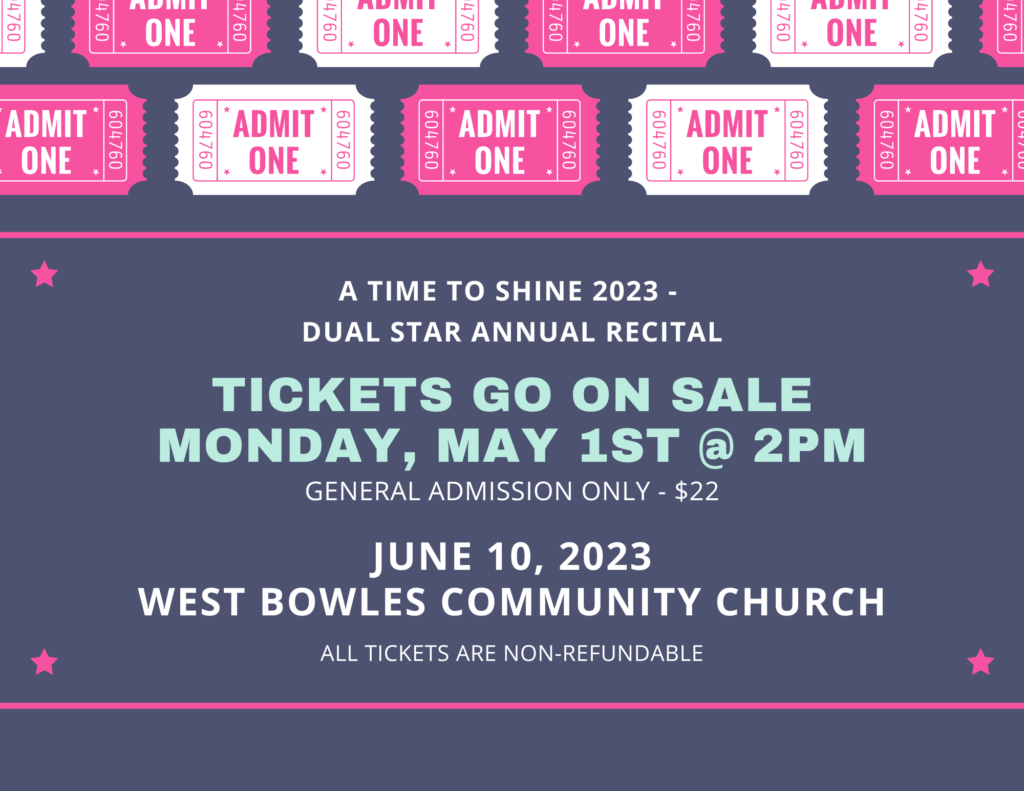 REGISTRATION IS NOW OPEN! ALL PARENTS MUST REGISTER THEIR DANCERS IN ORDER FOR THEM TO PARTICIPATE.
DRESS REHEARSAL
Friday, June 9, 2023
Please arrive 10 minutes early!
**Kinder Rock and Creative Movement classes will not partake in the dress rehearsals.
Show 1: 4:00 pm – dress rehearsal – Monday/Tuesday Classes
Show 2: 5:30 pm – dress rehearsal – Wednesday/Friday Classes
Show 3: 7:00 pm – dress rehearsal – Thursday/Saturday Classes

Location: West Bowles Community Church
12325 W. Bowles Ave
Littleton, CO 80127
Upon Arrival
Please find seats, parents are responsible for their students during dress rehearsal.
This is a full dress rehearsal! All students are to come with performance quality hair & make-up completed as well as dressed in full costume with the proper accessories, shoes, etc…
Students may leave after they participate in their last dance number.
RECITAL
Saturday, June 10, 2023
Dancers need to arrive at the church and head downstairs 30 minutes prior to the start of the show in full hair, make-up and costume!
Show 1: 8:30 am – Monday/Tuesday Classes

Show 2: 11:45 am – Wednesday/Friday classes

Show 3: 2:45 pm – Thursday/Saturday Classes
Location: West Bowles Community Church
12325 W. Bowles Ave
Littleton, CO 80127

All classes will participate in the recital EXCEPT:
Tumbling
Dance Conditioning
Technique Only classes (Ballet 2BC, Ballet 3AB, Ballet 4AB, Ballet 5/6)
Pre-Point
Stretch/Flexibility
Turns/Leaps
Adult Classes